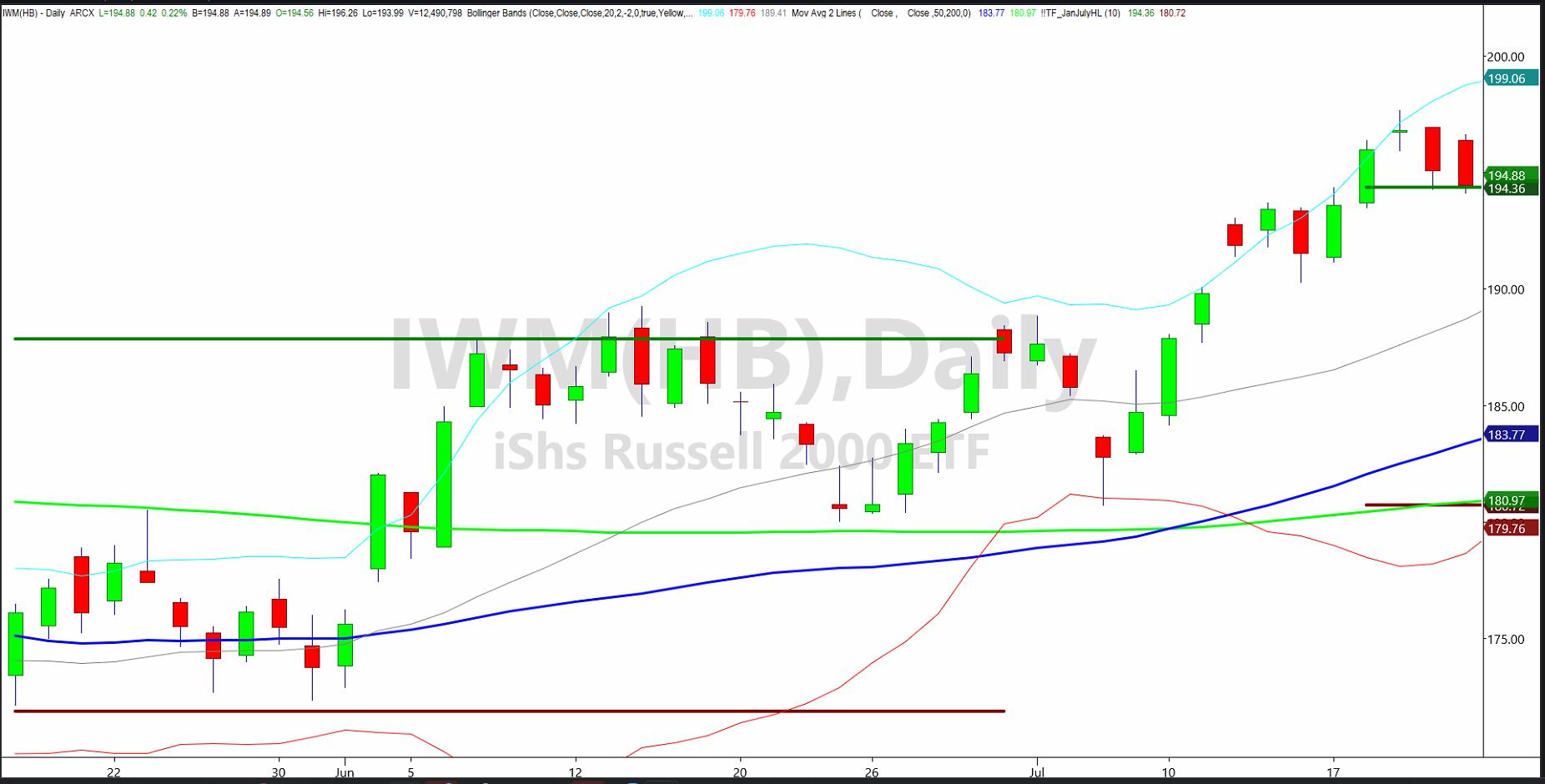 By now, you might have read either my or Geoff's article on the July 6-month calendar range reset. If not, I highly recommend you click on Geoff's "Trades and Tutorials" above.
The chart of the Russell 2000 (IWM) shows a really wide July range. The red line (low made the July 6th at 180.72) and the high made July 17th at 194.36, gives us a glimpse of a potential trading range. IWM's price rose fast in just a few short days since July 6th.
Now, as this week begins with a test of the July 6-month calendar range high, should that level break down, it could mean a substantially wide trading range in store for the small-caps. The July low is seemingly far. Of course, should we see a pop from current levels, and then we can surmise more upside with 200 the next level of chart resistance.
Since small-caps are a major focus for us, we will watch these levels carefully, especially in this heavy data-driven week. We also are watching Long Bonds through TLT.
The July range here has significance in several different ways.
So far, it is the high and low of the calendar range.
Current levels are not far from the high. And, rather far from the low. That tells us, one push above the 200 daily moving average and the green line at 103.26 has definite implications for the market.
It equally tells us that in between can be interpreted as "noise."
Furthermore, a failure of the 6-month calendar range low in red has very different implications for the market.
Put IWM and TLT together, and we will have a solid idea of the next trends.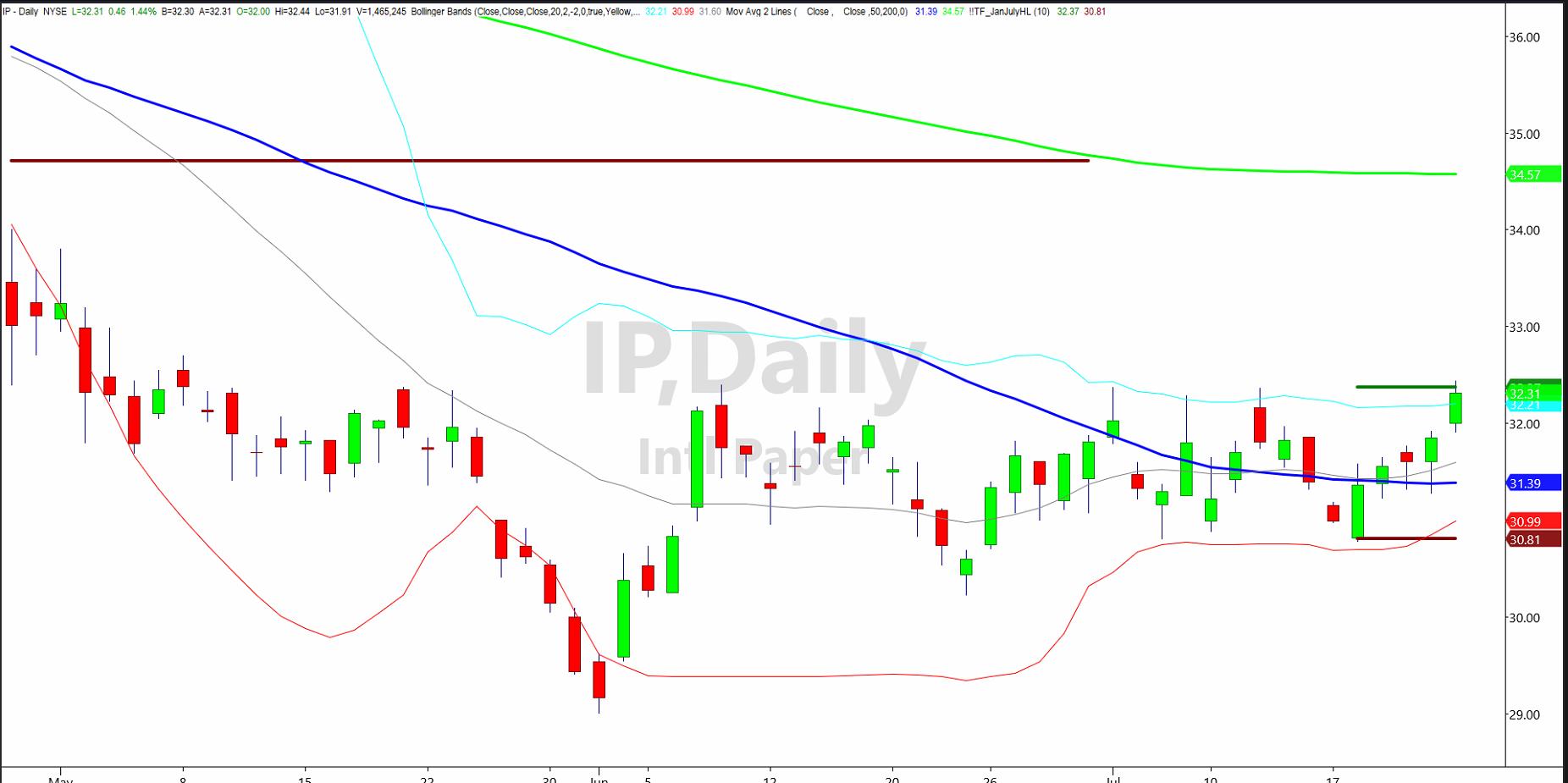 For fun, we have included a stock. International Paper (IP) is on our list.
IP is a leading paper and packaging company that stores raw materials such as wood fibers, pulp, and recycled materials for paper production. The stock surfaced for us when we researched companies that store raw materials as part of our inflation round 2 narrative. 
IP stopped right at the 6-month calendar range high. Now in a recuperation phase (over the 50-DMA), we find the current price compelling. We show you this so you can see the power of combining trends, phases, chart patterns, and calendar ranges.
Next, if IP sets up, we will ascertain risk, profit targets and position sizing. IP is a stock Mish talks about in this week's edition of Business First AM with Angela Miles.
---
For more detailed trading information about our blended models, tools and trader education courses, contact Rob Quinn, our Chief Strategy Consultant, to learn more.

"I grew my money tree and so can you!" – Mish Schneider
Get your copy of Plant Your Money Tree: A Guide to Growing Your Wealth and a special bonus here.
Follow Mish on Twitter @marketminute for stock picks and more. Follow Mish on Instagram (mishschneider) for daily morning videos. To see updated media clips, click here.
---
Mish discusses recession, inflation, and AI picks on the open with BNN Bloomberg.
Mish and Angela Miles discuss the next moves for your money on Business First AM.
Mish talks her approach to being a professional trader in this Options Insight interview with Imran Lakha.
Nicole Petallides and Mish discuss crypto, basic materials, inflation and gold in this appearance on TD Ameritrade.
Mish and Ash Bennington cover a lot in this video from Real Vision, discussing everything from the Fed, to inflation, to the incredible move in stocks and what is next.
Mish talks day-trading tactics, currency pairs, gold, oil, and sugar futures in this video from CMC Markets.
Mish and Angie Miles talk tech, small caps and one new stock in this appearance on Business First AM.
Mish examines the old adage "Don't Fight the Fed" in this interview on Business First AM.
Mish and Charles Payne talk the Fed, CPI, Inflation, yields, bonds and sectors she likes on Fox Business' Making Money with Charles Payne.
Mish, Brad Smith and Diane King Hall discuss and project on topics like earnings, inflation, yield curve and market direction in this appearance on Yahoo Finance.
---
Coming Up:
July 25: Singapore Radio
July 26: Your Daily Five, StockCharts TV
July 27: Live Coaching
July 28: IBD Live
---
ETF Summary
S&P 500 (SPY): 450 pivotal area, 455 resistance, 437 July low.
Russell 2000 (IWM): 193 is the 23-month holy grail.
Dow (DIA): 34,800 support.
Nasdaq (QQQ): Under its 6-month calendar range high, already showing signs of stress.
Regional banks (KRE): Consolidating over its July calendar highs is positive.
Semiconductors (SMH): Holds here okay-needs to clear 161, under 147 trouble.
Transportation (IYT): Right on the July calendar range high.
Biotechnology (IBB): 128 support now to hold.
Retail (XRT): Never cleared the July calendar range high-now, 66 is key support
Mish Schneider
MarketGauge.com
Director of Trading Research and Education