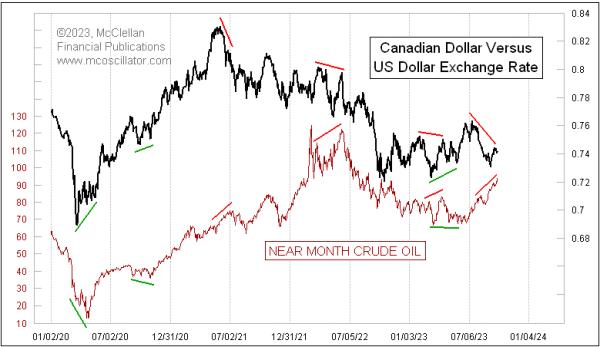 One of the not-too-surprising correlations in the financial markets is shown in this week's chart. There is a strong positive correlation between the dollar price of crude oil and the Canadian dollar-to-US dollar exchange rate. The relationship is not surprising, as Canada is a major oil-producing country, and so, as goes the price of oil, so go the fortune's of Canada's currency.
But as we see in this week's chart, while there is usually a very strong positive correlation, the two do not always agree. The fun point about this is that when they disagree, it is usually the Canadian dollar that ends up being "right" about where both are headed. That is relevant right now because crude oil has rallied since early July from in the $60s to now above $90/barrel, but the Canadian dollar is making a divergent lower high.
I have highlighted several other such divergences, moments when the two plots disagreed about which way to go. In each of these disagreements, one would have been better off listening to the message of the Canadian dollar than listening to the price direction of crude oil.
If that tendency continues, then we should expect at least a small stumble for crude oil prices just ahead, as the oil market realizes it has zigged when its partner zagged, and crude oil works to make up for that overstep. Then again, now that I have pointed out this tendency, this could be the one time that the rule does not work, just because I shared it.